McAuley Images: Portrait of the Sculptor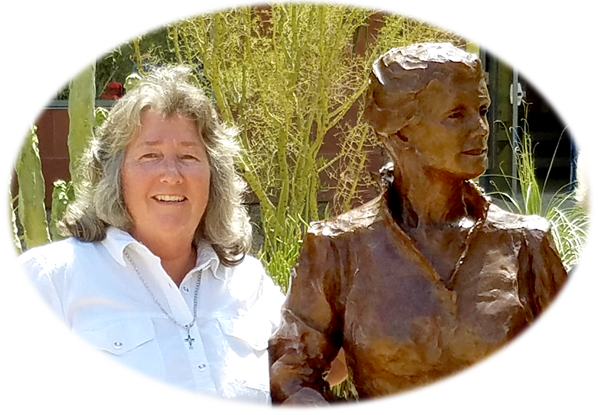 Attending Mercy High School in Michigan connected Sr. Marie with Sister Mary Ignatius, R.S.M who gave her the impetus to pursue and develop her talent. Marie received her Bachelor of Arts degree from Mercy College of Detroit in 1971 and her Master of Arts degree from Eastern Michigan University in 1984. She is a member of Phi Kappa Phi Honor Society, has studied abroad and is well traveled. She taught high school for thirty years and chaired the departments in which she taught for twenty-eight of those years. Since 2002 Sister Marie has been teaching at the University of Detroit Mercy in their School of Architecture.
Sister Marie's art focuses on individuals who have made significant contributions to society. A few years prior to entering the Sisters of Mercy in 1985, her art work began to focus on Catherine McAuley, the first Sister of Mercy. She has always worked in a wide variety of media: oil, water color, pencil, charcoal, pastel, ink, calligraphy and bronze. Her fascination with sculpting remains at the center of her work. This allows her to combine her passion for working in bronze with her devotion to the charism of Catherine McAuley as well as numerous other religious and historical figures.
As a result of her many forms of artistic expression and an overwhelming interest by the public in purchasing her works of art, McAuley Images was born.
Sister Marie continues to create life-size bronze sculptures, bronze busts, bronze reliefs and bronze table sculptures. Over the years she has produced works of art for many communities in the Sisters of Mercy, Mercy congregations worldwide, as well as for Mercy sponsored institutions & organizations. In addition, she has received commissions from groups like The Michigan Catholic Conference, parishes, and other congregations of women religious.
Delivering these bronze images in person provides Sister Marie delight ~ as well as the opportunity to meet people who continue the legacies of Catherine McAuley and others. She often expresses her deep gratitude in being able to continue this ministry.
Some of her most popular pieces include:
For further descriptions of the above, see the webpage